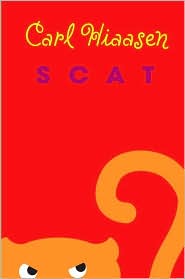 Facts: This book was published in 2009. (the second book I've read that was published this year!) It had 370 pages and I read it in two days. Mostly today, when I needed it the most. (In case you haven't heard by now, I've completed the SAT test!) This is Carl Hiaasen's 3rd book for kids. I wouldn't say they're in a series, but all the books are similar to each other in three ways; they all take place somewhere in Florida, the stories are about brave kids saving a certain endangered species, and each has a one word title.
Hoot
,
Flush
, and now
Scat. Hoot
was made into a movie by Walden Media (I love how good that company is at turning books into great films) and guess what? The filming actually took place in Florida, and Annette and I got to be extras that made it into the movie! If you haven't seen this movie yet, now you have a very good reason to do so. You can see my sister and I quite clearly close to the end, especially Annette. You can see her making funny faces right behind the lady from
Legally Blond
, whats-her-name (I didn't watch
Legally Blond
)
.
I wish I could actually show you where we turn up in the movie, so I can prove myself, but I can't find a good clip on YouTube. So you'll have to look for us yourselves. Be aware, though, that this was a couple years ago, and our hair was extra short then. However, you probably won't have trouble spotting me, since I've got a pastel pink shirt.
Okay, enough talk about my extra days. Let's get back to my opinions on
Scat.

Scat
is really a sort of an environmental mystery. A really nasty teacher goes missing on a field trip to a swamp when a wildfire starts, and people suspect that this delinquent kid, Smoke, actually started the fire. But he really didn't. There's also a couple of oil drillers aiming to get rich with an illegal lot in the swamp that's supposed to belong to the state of Florida, because of the endangered panthers.
I think the book was very well-written. The story seems so real because there aren't any overly fantastical elements in it; it's just like real life. Although it was cute that Carl was able to sneak in a couple of Harry Potter references. That kind of thing brings the story closer to reality, because I guess if readers see that the characters have read H. P., then they'll become that much easier to relate to. I also like how all the books have highly environmentally conscious characters. It's very true that the wild-life of Florida is disappearing and getting buried under hotels, casinos, parking lots, and who knows what else, just so that a few uncaring people can stuff more money in their pockets.

I think this definitely deserves to be turned into a movie, just like

Hoot

. Hey, promise that you'll see

Hoot

as soon as you can? I can't really make sure you keep the promise all the way from my computer, but you've just got to see me and my sister in a Hollywood film. Then you can point and say to your friends that you know someone in a movie! Plus, you know I got Robert Wagner's autograph? I got the main boy, Logan Lerman's, too. I believe

he's

going to play Percy when they make a movie out of the Olympian series.

Okay, so make sure you watch Hoot soon, alright? And it wouldn't hurt to read Carl Hiaasen's works either. They're all great reads. You won't regret picking them up.