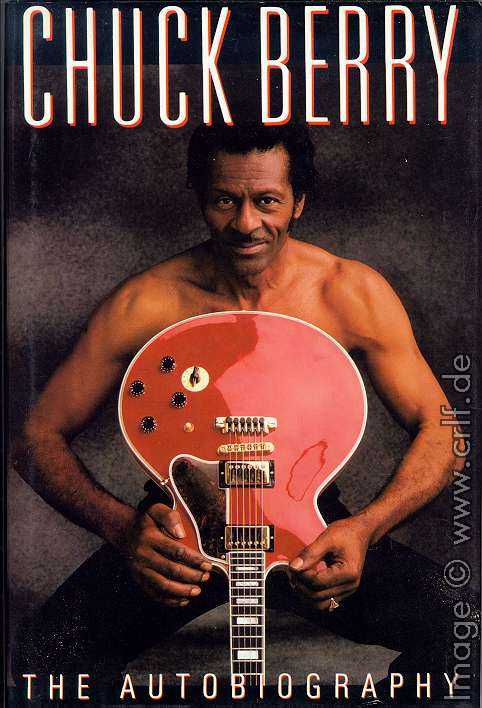 The main read that I wanted to talk about today is one that I finished just yesterday. It's another autobiography about a famous musician I am a fan of, and this guy definitely made history. Chuck Berry (who is still alive and kicking at age 83, by the way! 0,o) is legendary for a dance move called the "duck walk" and for writing songs such as "Maybellene," "Roll Over, Beethoven," "Johnny B. Goode," "Monkey Business," "My Ding-A-Ling" and many many others.
Before reading this, I didn't know a lot about Chuck. All I knew were his great songs. But I learned a lot from this book that he wrote himself in the 80's. For example, not only is he a great song-writer, he's an awesome writer period. He's very poetic, making extremely good use of metaphors and rhyme. I also learned that Mr. Berry has gone to jail a few times. But he's not a bad guy at all, and his description of his experiences in jail weren't all that horrible. He is also very attracted to women, but he's only been married once in his life.
This was a very fascinating book. I highly recommend it to you die-hard fans of the old rock-and-roll heroes.
By the way, sorry that it has once again been so long since my last book review. I've read a lot of books since the last one, though most of them have been graphic novels that I read in one sitting in the library or bookstore:
Cirque Du Freak
volume 4 and
Children of the Sea
volumes 1 and 2. I also read a book called
Here comes Everybody,
a non-fiction book about how people are able connect much easier with todays technology. They can get organized and make friends without physically going anywhere. Anyway, it was a pretty good read, but I just kept putting off reviewing it.
I also finished reading an excellent writing book quite recently, called
Spilling Ink
, by Anne Mazer and Ellen Potter. It was published just this year and was extremely helpful (unlike a most writing books I've read before). It got the writing wheels in my head turning again, at least. In my opinion, this is definitely something I would read over and over again, because it has great advice, and anyway, the writing is really awesome.