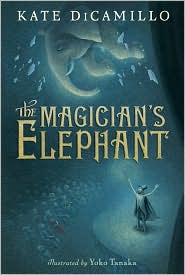 Remember when I wrote about reading the first chapter of
The Magician's Elephant
in Borders a couple posts back? Well, I got it from the library a while ago, and today I picked it up and read the whole thing in one whole day! In this case, the book being such a quick read went in its favor. I love the author, Kate DiCamillo's writing style, and this book was another one of her sweet and simple masterpieces for the young at heart.
The story is told from the view of many characters, all interrelated to each other in the end, but it's about a boy who goes to a fortune teller one day and asks if his sister is alive. The teller says she does indeed live, and that he will be led to her by, of all things, an elephant. Now, this is quite a silly idea, because no one in his village there has ever encountered such a creature, and besides, what does an elephant have to do with finding his sister? Mysterious, no?...
Well soon after that, a magician in town is performing a show, and instead of conjuring up a bouquet of flowers, he instead makes a great big elephant suddenly, and unexpectedly, crash through the ceiling and into the room! Now that's real magic! And the magician doesn't even know how he did it! Well, not really. But the details are for you to read later.
The way the characters were written was probably my favorite part of the book. Each character gets a clearly written history, and you get a wonderful view of their hopes and dreams, and what is nearest and dearest to their hearts. Even the elephant gets her point of view told in the story. And like I said before, all of these characters are connected, and eventually they all meet each other and come to the same conclusion that this is a small and magic world that we live in. Even when things are at their darkest and bleakest, impossible things can happen. Like an elephant appearing out of thin air!
This book is highly, highly recommended. The pictures inside are good too, and illustrate the story's mood and events perfectly, in my opinion. Imagine how quickly it will take you to read and take something special away from this book.